The Goldendoodle is a cross-breed dog between a Golden Retriever and a Poodle. Goldendoodle puppies are ideal for many types of homes because they are laid back and adaptable. They are also very loyal and bonds quickly to their family. 
Golden Retrievers and Poodles are both very intelligent breeds making Goldendoodle puppies easy to train with consistency and patience. They love structure and once trained correctly, will be a life long best friend to the entire family.

A 1st Generation Goldendoodle is known as an "F1" Goldendoodle, is the most commonly bred generation. However over the years other crosses have become increasingly popular, especially for families wanting a more hypoallergenic coat and more consistent coat textures and colors.
We are proud to be producing puppies with hard to find colors like abstract, parti and merle Goldendoodles. We specialize in the smaller sizes as well, specifically Mini Goldendoodle puppies.
Goldendoodle Generations Explained
F1 Goldendoodle Puppy: Golden Retriever  X Poodle
F1b Goldendoodle Puppy: F1 Goldendoodle  X Poodle
F1bb Goldendoodle Puppy: F1b Goldendoodle  X Poodle
F2 Goldendoodle Puppy: F1 Goldendoodle  X F1 Goldendoodle
F2b Goldendoodle Puppy: F1 Goldendoodle  X F1b Goldendoodle
F3 Goldendoodle Puppy: F1b Goldendoodle  X F1b Goldendoodle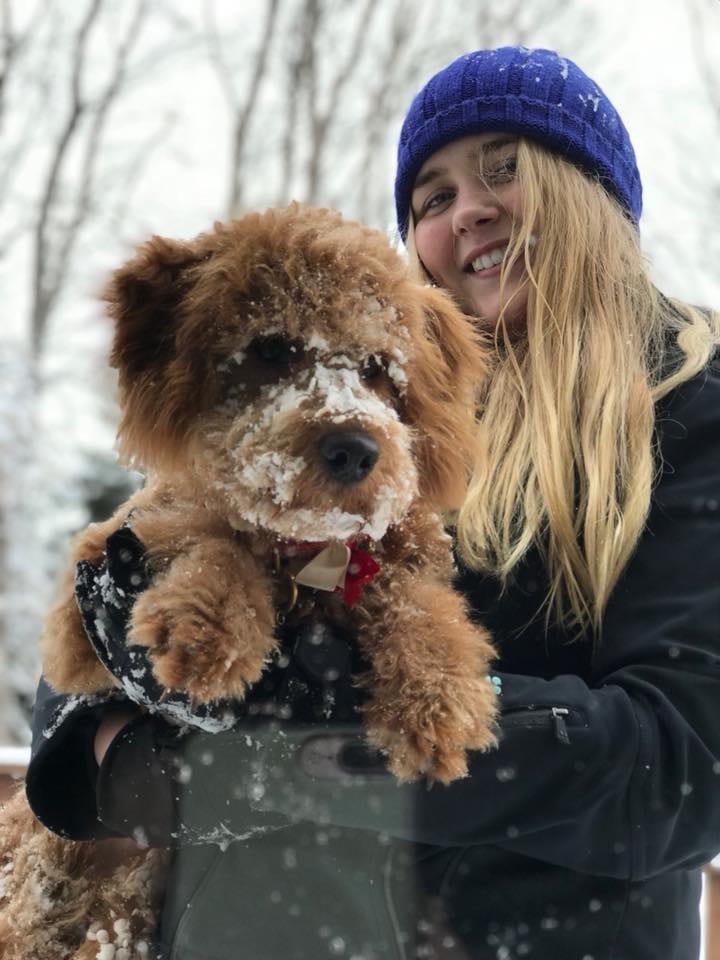 About Our Goldendoodle Breeding Program
How a puppy is raised in the first weeks of it's life is almost just as important to the puppy's personality as genetics! Me and my wonderful team do our absolute best to raise our pups to have amazing temperament, conformation, and most importantly, health. We DNA test all our adults for Degenerative Myelopathy (DM) and Von Willebrand's (VWB). Our adults are also Hip and Elbow certified by the Orthopedic Foundation for Animals (OFA). We believe a healthy Goldendoodle is important but we also know families are searching for a Goldendoodle puppy that is hypoallergenic, cute, fluffy, and affectionate. We go a step above to ensure this by DNA testing all our adults for the shedding gene to ensure our best chances at a very low to non-shedding Goldendoodle puppies.
We breed all sizes of Goldendoodle puppies, including Standard, Mini, and Micro (also known as Tiny). Learn more about the sizes we breed below!
Click the button below to visit our Parents page to learn more about our mothers and fathers.
Goldendoodles come in many different colors including:
Black
Copper
White
Cream
Gray
Apricot
Red
Abstract
Parti
Merle
The most common Goldendoodles puppies are solid in color.
For years we have produced the deep red color many people want in a Goldendoodle puppy. As desires of our families change over the years, so does our program. Over the last couple of years we have worked hard to produce red and white abstract Goldendoodles, red and white parti Goldendoodles, and now the blue merle Goldendoodle puppies. The solid colored Goldendoodle is still very popular but the parti, abstract and merle colors are now more rare desirable.
If you're looking for a deep red doodle, check out our Irish Doodles!
The Standard Goldendoodle puppies we have for sale are generally first generation hybrid or "designer dogs", also known as F1. This is a cross between our Golden Retriever and our Standard Poodle. Many families want the F1 because of the resilience in behavior due to crossing 2 purebred dogs. People also love the personality of the Golden Retrievers and want as much of that happy-go-lucky attitude as possible! Goldendoodles are usually far healthier than either of the dogs purebred parents.
The Standard Goldendoodle usually matures to 45 – 100 lbs and is the largest Goldendoodle we produce. The Standard is perfect for families that are active but also wanting a dog that is low shedding without losing the characteristic of both the Poodle and the Golden Retriever. They make good hunting dogs as well due to the "retriever" in their DNA. However, if you're an avid hunter, perhaps an Irish Doodle is a better fit! You can also check out our breed comparison page to help you decide what doodle fits your lifestyle the best.
Mini Goldendoodles Puppies
We specialize in breeding Mini Goldendoodle puppies! This is our most common size as families find it very easy to travel with a Mini Goldendoodle, yet they are still the perfect size for family activities like running, biking and hiking. Our Mini Goldendoodles come in different generations and colors. The most common generation is the F1, while our most common colors are deep red, red and white abstract, red and white parti, and our newest color being blue merle parti.
We do produce other generations like F1BB Goldendoodles, however F1 is our most popular and therefore what we focus on the most.
The Mini is a happy medium for families that love the vigor of the large breed but are not sure their home, vehicle or lifestyle can handle the size.
The Micro Goldendoodle, also known as the Tiny Goldendoodle, is produced when using the Toy Poodle. We are among the very few breeders who have been able to produce the Micro Goldendoodle that matures to be 15 to 30 pounds fully grown. We have also been able to produce some of the smallest Micro Goldendoodles by breeding our smallest F1 Goldendoodle weighing 20 lbs with our Tiny Poodle weighing 4 lbs. This has given us Micro Goldendoodles in deep red and red and white abstract that mature to 8-15 lbs. This is an adorable breed that could easily hide in your pocket or purse. With its shaggy coat and adorable face, your Micro Goldendoodle will always be the center of attention and will bring you many years of love and laughter with it's amazing personality.
Reviews from owners who've purchased a Goldendoodle puppy from us
Reviews
5 out of 5 stars (based on 24 reviews)
F1 goldendoodle- best personality and non shedding!
We love our golden doodle Tenney. She is the perfect temperament for our family. Plays when we want to play, lays down and rests (or snores😄) when we don't. She is the perfect blend of active for our 3 kids(13, 9& 4). From day 1 she has slept through the night and was a breeze to kennel and potty train. Literally the best dog we have ever had. Poodles to Doodles takes care of everything from microchipping to spay/neuter so there was nothing for us to worry about when we took her home other than enjoying her. I think we will add another in the future!