Bernedoodles are a designer breed that blends the intelligence of the poodle with the family orientated loyalty of the Bernese Mountain Dog.
Bernedoodles are a companion dog, always looking to please their humans. They are happy, social, loyal, and a bit goofy! A Bernedoodle puppy will always be found next to their family whether it is on the couch, a bike trail, campground, or dog park.
Bernedoodle puppies can be found in 3 main sizes, Standard, Mini, and Micro Bernedoodles. Learn more about the various sizes of our puppies below.
Our puppies are often referred to as teddy bear Bernedoodles since their shaggy coat is often likened to that of a teddy bear. 
Generations of Bernedoodle Puppies
F1 Bernedoodle: Bernese Mountain Dog  X Poodle

F1b Bernedoodle: F1 Bernedoodle  X Poodle

F1bb Bernedoodle: F1b Bernedoodle  X Poodle

F2 Bernedoodle: F1 Bernedoodle  X F1 Bernedoodle

F2b Bernedoodle: F1 Bernedoodle  X F1b Bernedoodle

F3 Bernedoodle: F1b Bernedoodle  X F1b Bernedoodle
We produce mostly F1 Bernedoodles and F1b Bernedoodles, though sometimes we will produce the other generations.
About Our Bernedoodle Puppies
The Bernedoodles that we have for sale are bred for temperament, conformation and most importantly, health (view our Health Guarantee!). We DNA test all our adults for Degenerative Myelopathy (DM) and Von Willebrand's (VWB). Our adults are also Hip and Elbow certified by the Orthopedic Foundation for Animals (OFA). We believe that health is of utmost importance. But we also know families are searching for puppies that are hypoallergenic, cute, and fluffy. We go a step above to ensure this by DNA testing all our adults for the shedding gene to ensure our best chances of very low to non-shedding Bernedoodle coat type. We also DNA test for the curl and furnishings gene so all our puppies will have a teddy bear look.
We breed all sizes of Bernedoodle puppies, including Standard, Mini, and Micro (also known as Tiny). Learn more about the sizes of our Bernedoodle puppies for sale below!
Click the below link to visit our Parent page.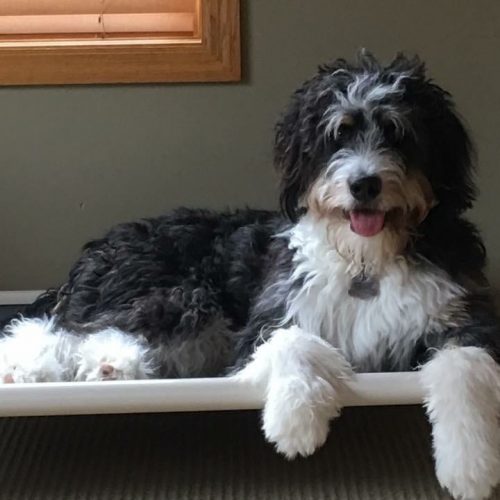 What colors are Bernedoodle?
Bernedoodles comes in many different colors and sizes:
A solid color Bernedoodle will generally be black or brown. It may have a very small amount of white on the tips of the feet and chest which can disappear as the puppy matures.
A Bi-color Bernedoodle has two color patterns to the coat. It will generally be black and white or brown and white.
A Phantom Bernedoodle puppy will generally be black with tan points (

this can resemble the Tricolor without the white). These points or tips are generally along cheekbone, eyebrows, front and hind legs, and underneath the tail .

A Sable Bernedoodle puppy will have a two-toned coat color. It can have either brown or black tips on the coat. Sable Bernedoodles change or lighten in color as then mature.
A Tri-color Bernedoodle will be black, white and rust, the rust can also be called red or tan. These puppies generally have white on the face along with a white blaze over forehead and head. These puppies look the most like the Bernese Mountain Dog.
Merle Bernedoodle puppies have mottled patches of color in solid, piebald, or blue-ish coats. You can learn more about Merle coats on this Wikipedia page.
We've been fortunate enough to breed many tri-color puppies – they are always in high demand!
The Standard Bernedoodle puppies we generally produce are first generation, also known as F1. This is a cross between our Bernese Mountain Dog and our Standard Poodle. The F1 Standard Bernedoodle usually matures to 55-75 lbs and is the largest Bernedoodle puppies we produce. This is a great size for families that are active and want minimal to low shedding with the highest chance of getting the traits of the Bernese Mountain Dog.
We specialize in breeding Mini Bernedoodle puppies! These little guys usually mature to be 25 to 50 lbs. They are as strong, smart, and as loyal as they come.
We do our best to estimate the adult weights of our puppies, but cannot make guarantees.
The Tiny or Micro Bernedoodle puppy is produced when using the Toy Poodle. We are among the very few Bernedoodle breeders who have been able to produce the Micro-sized Bernedoodle that matures to be 18 to 30 pounds fully grown. 
Reviews from owners who've purchased a Bernedoodle Puppy from us
Reviews
4.7 out of 5 stars (based on 14 reviews)
Super smart, very playful, loves people and other dogs
We have a Mini Bernedoodle from Jill and he is an incredible puppy. He is 8 months old. Super smart, very playful, loves people and other dogs. He is a very active & healthy puppy. He has a bit of orneriness in him from the Bernese side of him but this is what makes his personality so adorable. Jill has been great from the moment we made the decision to get a puppy to after we brought him home She is always very responsive (even now, 6 months after bringing puppy home) to answer questions and offer advice.